A chorus effect occurs when individual sounds with roughly the same timbre and nearly (but never exactly) the same pitch converge and are perceived as one. While similar sounds coming from multiple sources can occur naturally (as in the case of a choir or string orchestra), it can also be simulated using an electronic effects unit or signal processing device.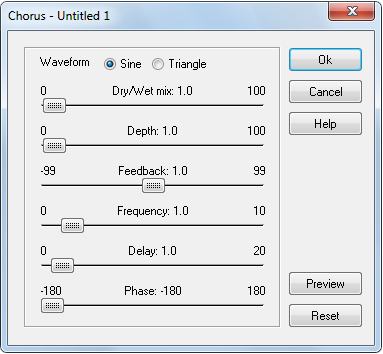 Chorus Controls
Waveform
Sets the waveform shape Sine or Triangle of the LFO.
Dry/Wet mix
Sets the ratio of wet (processed) signal to dry (unprocessed) signal.
Depth
Sets the percentage by which the delay time is modulated by the low-frequency oscillator, in hundredths of a percentage point.
Feedback
Sets the percentage of output signal to feed back into the effect's input.
Frequency
Sets the frequency of the LFO
Delay
Sets the number of milliseconds the input is delayed before it is played back.
Phase
Sets the phase differential between left and right LFO.