Displays the "New Audio File" window to specify the attributes of the new File. New files are virtually created and require no storage until changes are made. When the new file is saved, the Wave (.wav) format is selected by default.
AudioDope supports a number of audio attributes. These attributes must be specified when creating a new audio file. The file is created virtually and requires no storage space initially.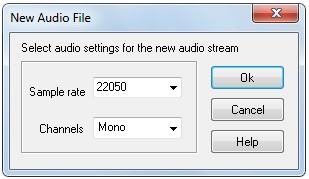 Channels
Mono audio streams have one channel of audio. Stereo audio streams have two channels. Stereo audio streams use double storage space compared to mono audio streams and can take twice as long to process.
Sampling Rate
This value affects the quality and quantity of the audio stream. Higher values allow a wider range of frequencies to be recorded and give better quality. Smaller values require less space. The drop down list box provides many standard rates. For high quality, a minimum of 44100 should be used.
| | |
| --- | --- |
| Rate (Hz) | Quality |
| 8000 | Telephone quality. |
| 11025 | Low end radio quality. |
| 22050 | Radio quality. Fair for music. |
| 32000 | Near CD quality |
| 44100 | CD quality. |
| 48000 | Digital Audio Tape (DAT) quality. |
| 88200 | Near DVD quality |
| 96000 | DVD quality. |
When setting up recording, make sure you specify attributes that are compatible with your audio device. Many devices do not support rates over 48000Hz. Higher rates could give lower quality in such cases, so check the device specifications if you plan to use rates above 48000Hz.