Displays the "New Audio File" window to specify the attributes of the new File. New files are virtually created and require no storage until changes are made. When the new file is saved, the Wave (.wav) format is selected by default.
AudioDope supports a number of audio attributes. These attributes must be specified when creating a new audio file. The file is created virtually and requires no storage space initially.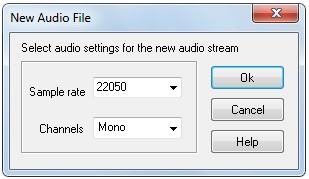 Channels
Mono audio streams have one channel of audio. Stereo audio streams have two channels. Stereo audio streams use double storage space compared to mono audio streams and...
more